Meppi doll's house / shelf
Item in stock. (Delivery time 3-5 days)

Product review: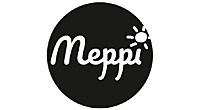 Product.Nr.: 031181
MPN: 490058
Description
Product description
Product dimensions in cm: 137 x 98 x 36
Weight in Kg: 40
Material: wood
Age recommendation: from 3 years
Assembly required: yes
Pictured related equipment including: no
A huge solid-wood doll's house made by Meppi. With its classically beautiful design, it is a real eye-catcher not only in the nursery, but also in the living room.
Design and a high practical added value go hand in hand, because you can use it both as a beautiful doll's house, as well as a large and spacious shelf.
It offers enough space for lots of doll's house furniture, books or simply your kids' favourite toys on four floors. Smaller parts can be neatly stowed in the two practical wooden drawers at floor level, finally allowing order to prevail again!
More features:
• large doll's house / shelf made of solid wood
• four floors with seven compartments / rooms
• two large wooden drawers for stowing away small parts
• classic design for the whole apartment
• sturdy design
• detailed assembly instructions
Notes
Safety Note: Caution!
Not suitable for children under 36 months.
Use only under direct adult supervision.

Reviews (0)