Kidkraft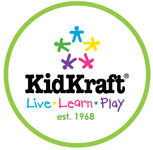 The company KidKraft is a leading manufacturer of wooden toys in the United States. The company develops and markets since its foundation in 1968 imaginative toys for children and has, inter alia, licenses for toys oft known brands like Harley-Davidson® and Thomas & Friends®.
Especially great is the variety of large kitchens for children and doll houses.
But some kids furnitures, such as toy boxes, children suite, children's beds or dressers for little girls are in the range of KidKraft. In its blog http://kidkraft.blogspot.de/ KidKraft regularly presents new toys.



The bed are designed very imaginatively by themes. There are, for example, a firebrigade-bed, a boat-bed, a race car bed and a princess bed. The small beds are suitable for standard mattress size 70 x 140 cm.

The products from KidKraft especially appeal through their contemporary design, but also convinced the processing of the products.

Most items are delivered unassembled in box. Many customers reported back to us that the goods are packed very well and the toys could be installed simply due to the enclosed instructions and the numbered parts.
Since we have a large part of the KidKraft assortment in stock, the toys are short-term available.




Among the children's kitchens by KidKraft is for all tastes the right kitchen. The modern farmhouse kitchen or the children's kitchen "Prairie" are decorated in country style with their bright and pink shades especially among small girl very popular.

There is also a kitchen in the 70 years design - the retro kitchen is available in white, red or pink.
Even larger corner kitchens are there by KidKraft. This offer extra space and play facilities, because they are equipped with kitchen appliances such as refrigerator, oven, microwave, stove, sink and washing machine. Also, matching accessories such as toaster, mixer and utensils are in the range of the American toy manufacturer.





Concerning the doll houses from KidKraft the selection is huge - and so are the dolls houses themselves.

Most doll houses are suitable for dolls up to 30 cm and usually let not be only the dreams of little girls come true. Even some moms would have liked to have had as a child such a large doll house and meets up a secret heart's desire when she gives her daughter with a doll house from KidKraft. As the game can start directly, the doll houses usually have initial equipment of furnitures. The furniture can of course be extended with a set of matching doll house furnitures.

In the selection are the doll house Amelia, which is a dream for girls who love everything in pink. The doll house "Savannah", however, is decorated in white and pastel colours and fits well in very brightly decorated nurseries.
The big doll houses offer different rooms on several floors and plenty of space, even for the play of several children.

Look in the shop

For boys KidKraft has also great toys in the range. Railway tables, a pirate ship, a parking garage with accessories or a fire brigade set "everyday heroes.